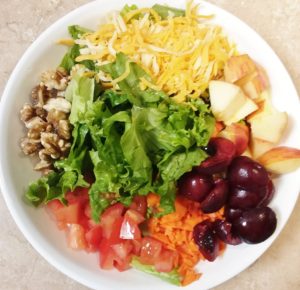 Fresh Summer Salad – Ahhhh . . .
1-2 cups green leafy lettuce, torn or chopped
1/2 cup chopped carrots or more (I really like carrots . . .)
1 small diced fresh tomato
1 medium chopped apple, any variety
1/2 cup halved sweet Bing cherries
1/4 cup chopped Walnuts
1/4 cup shredded soy cheese
2 tablespoons salad dressing of choice (I used Kraft Zesty Lime)
Arrange in your bowl however you like. You can add some chickpeas (garbonzo beans) for protein or maybe a Boca Spicy Chik'n Patty.
Keep in mind that you can adjust this recipe to your liking. If you don't want soy cheese, use your favorite cheese. Use what you have. Add or remove anything to make this salad into your favorite salad!